QVBoxLayout ()
 
 
QVBoxLayout (QWidget *parent)
 
 
~QVBoxLayout ()
 
 
QBoxLayout (Direction direction, QWidget *parent=nullptr)
 
 
~QBoxLayout ()
 
void 
addItem (QLayoutItem *item) override
 
void 
addLayout (QLayout *layout, int stretch=0)
 
void 
addSpacerItem (QSpacerItem *spacerItem)
 
void 
addSpacing (int size)
 
void 
addStretch (int stretch=0)
 
void 
addStrut (int size)
 
void 
addWidget (QWidget *widget, int stretch=0, Qt::Alignment alignment=Qt::Alignment ())
 
int 
count () const override
 
Direction 
direction () const
 
Qt::Orientations 
expandingDirections () const override
 
bool 
hasHeightForWidth () const override
 
int 
heightForWidth (int width) const override
 
void 
insertItem (int index, QLayoutItem *item)
 
void 
insertLayout (int index, QLayout *layout, int stretch=0)
 
void 
insertSpacerItem (int index, QSpacerItem *spacerItem)
 
void 
insertSpacing (int index, int size)
 
void 
insertStretch (int index, int stretch=0)
 
void 
insertWidget (int index, QWidget *widget, int stretch=0, Qt::Alignment alignment=Qt::Alignment ())
 
void 
invalidate () override
 
QLayoutItem * 
itemAt (int index) const override
 
QSize 
maximumSize () const override
 
int 
minimumHeightForWidth (int width) const override
 
QSize 
minimumSize () const override
 
void 
setDirection (Direction direction)
 
void 
setGeometry (const QRect &rect) override
 
void 
setSpacing (int spacing)
 
void 
setStretch (int index, int stretch)
 
bool 
setStretchFactor (QLayout *layout, int stretch)
 
bool 
setStretchFactor (QWidget *widget, int stretch)
 
QSize 
sizeHint () const override
 
int 
spacing () const
 
int 
stretch (int index) const
 
QLayoutItem * 
takeAt (int index) override
 
 
QLayout ()
 
 
QLayout (QWidget *parent)
 
bool 
activate ()
 
void 
addWidget (QWidget *w)
 
QMargins 
contentsMargins () const
 
QRect 
contentsRect () const
 
QSizePolicy::ControlTypes 
controlTypes () const override
 
Qt::Orientations 
expandingDirections () const override
 
QRect 
geometry () const override
 
void 
getContentsMargins (int *left, int *top, int *right, int *bottom) const
 
virtual int 
indexOf (QWidget *widget) const
 
void 
invalidate () override
 
bool 
isEmpty () const override
 
bool 
isEnabled () const
 
QLayout * 
layout () override
 
int 
margin () const
 
QSize 
maximumSize () const override
 
QWidget * 
menuBar () const
 
QSize 
minimumSize () const override
 
QWidget * 
parentWidget () const
 
void 
removeItem (QLayoutItem *item)
 
void 
removeWidget (QWidget *widget)
 
virtual QLayoutItem * 
replaceWidget (QWidget *from, QWidget *to, Qt::FindChildOptions options=Qt::FindChildrenRecursively)
 
bool 
setAlignment (QLayout *layout, Qt::Alignment alignment)
 
void 
setAlignment (Qt::Alignment alignment)
 
bool 
setAlignment (QWidget *widget, Qt::Alignment alignment)
 
void 
setContentsMargins (const QMargins &margins)
 
void 
setContentsMargins (int left, int top, int right, int bottom)
 
void 
setEnabled (bool enable)
 
void 
setGeometry (const QRect &rect) override
 
void 
setMargin (int margin)
 
void 
setMenuBar (QWidget *widget)
 
void 
setSizeConstraint (SizeConstraint constraint)
 
void 
setSpacing (int spacing)
 
SizeConstraint 
sizeConstraint () const
 
int 
spacing () const
 
void 
update ()
 
 
QObject (QObject *parent=nullptr)
 
 
~QObject ()
 
bool 
blockSignals (bool block)
 
const QList< QObject * > & 
children () const
 
bool 
connect (const QObject *sender, const QString &signalMethod, const QString &location, const QString &slotMethod, Qt::ConnectionType type=Qt::AutoConnection)
 
bool 
connect (const QObject *sender, const QString &signalMethod, const QString &slotMethod, Qt::ConnectionType type=Qt::AutoConnection)
 
bool 
disconnect (const QObject *receiver, const QString &slotMethod=QString ()) const
 
bool 
disconnect (const QString &signalMethod, const QString &location, const QObject *receiver=nullptr, const QString &slotMethod=QString ()) const
 
bool 
disconnect (const QString &signalMethod=QString (), const QObject *receiver=nullptr, const QString &slotMethod=QString ()) const
 
void 
dumpObjectInfo ()
 
void 
dumpObjectTree ()
 
QList< QString > 
dynamicPropertyNames () const
 
virtual bool 
event (QEvent *event)
 
virtual bool 
eventFilter (QObject *watched, QEvent *event)
 
template<typename T >
T 
findChild (const QString &childName=QString ()) const
 
template<class T >
QList< T > 
findChildren (const QRegularExpression &regExp, Qt::FindChildOptions options=Qt::FindChildrenRecursively) const
 
template<class T >
QList< T > 
findChildren (const QString &objName=QString (), Qt::FindChildOptions options=Qt::FindChildrenRecursively) const
 
bool 
inherits (const QString &className) const
 
void 
installEventFilter (QObject *filterObj)
 
bool 
isWidgetType () const
 
bool 
isWindowType () const
 
void 
killTimer (int id)
 
const QMetaObject * 
metaObject () const
 
void 
moveToThread (QThread *targetThread)
 
QString 
objectName () const
 
QObject * 
parent () const
 
template<class T = QVariant>
T 
property (const QString &name) const
 
void 
removeEventFilter (QObject *obj)
 
void 
setObjectName (const QString &name)
 
void 
setParent (QObject *parent)
 
bool 
setProperty (const QString &name, const QVariant &value)
 
bool 
signalsBlocked () const
 
int 
startTimer (int interval, Qt::TimerType timerType=Qt::CoarseTimer)
 
QThread * 
thread () const
 
 
QLayoutItem (Qt::Alignment alignment=Qt::Alignment ())
 
virtual 
~QLayoutItem ()
 
Qt::Alignment 
alignment () const
 
void 
setAlignment (Qt::Alignment alignment)
 
virtual QSpacerItem * 
spacerItem ()
 
virtual QWidget * 
widget ()
 
enum  
Direction
 
enum  
SizeConstraint
 
void 
destroyed (QObject *obj=nullptr)
 
void 
objectNameChanged (const QString &objectName)
 
void 
deleteLater ()
 
static QSize 
closestAcceptableSize (const QWidget *widget, const QSize &size)
 
static bool 
connect (const QObject *sender, const QMetaMethod &signalMethod, const QObject *receiver, const QMetaMethod &slotMethod, Qt::ConnectionType type=Qt::AutoConnection)
 
static bool 
connect (const QObject *sender, const QString &signalMethod, const QObject *receiver, const QString &slotMethod, Qt::ConnectionType type=Qt::AutoConnection, const QString &location=QString ())
 
static bool 
connect (const QObject *sender, const QString &signalMethod, const QString &location, const QObject *receiver, const QString &slotMethod, Qt::ConnectionType type=Qt::AutoConnection)
 
template<class Sender , class SignalClass , class... SignalArgs, class Receiver , class SlotClass , class... SlotArgs, class SlotReturn >
static bool 
connect (const Sender *sender, void (SignalClass::*signalMethod)(SignalArgs...), const Receiver *receiver, SlotReturn (SlotClass::*slotMethod)(SlotArgs...), Qt::ConnectionType type=Qt::AutoConnection)
 
template<class Sender , class SignalClass , class... SignalArgs, class Receiver , class T >
static bool 
connect (const Sender *sender, void (SignalClass::*signalMethod)(SignalArgs...), const Receiver *receiver, T slotLambda, Qt::ConnectionType type=Qt::AutoConnection)
 
static bool 
disconnect (const QObject *sender, const QMetaMethod &signalMethod, const QObject *receiver, const QMetaMethod &slotMethod)
 
static bool 
disconnect (const QObject *sender, const QString &signalMethod, const QObject *receiver, const QString &slotMethod)
 
static bool 
disconnect (const QObject *sender, const QString &signalMethod, const QString &location, const QObject *receiver, const QString &slotMethod)
 
template<class Sender , class SignalClass , class... SignalArgs, class Receiver , class SlotClass , class... SlotArgs, class SlotReturn >
static bool 
disconnect (const Sender *sender, void (SignalClass::*signalMethod)(SignalArgs...), const Receiver *receiver, SlotReturn (SlotClass::*slotMethod)(SlotArgs...))
 
template<class Sender , class SignalClass , class... SignalArgs, class Receiver >
static bool 
disconnect (const Sender *sender, void (SignalClass::*signalMethod)(SignalArgs...), const Receiver *receiver, std::nullptr_t slotMethod=nullptr)
 
template<class Sender , class SignalClass , class... SignalArgs, class Receiver , class T >
static bool 
disconnect (const Sender *sender, void (SignalClass::*signalMethod)(SignalArgs...), const Receiver *receiver, T slotMethod)
 
static QMetaObject & 
staticMetaObject ()
 
static QString 
tr (const char *text, const char *comment=nullptr, std::optional< int > numArg=std::optional< int >())
 
void 
addChildLayout (QLayout *layout)
 
void 
addChildWidget (QWidget *widget)
 
QRect 
alignmentRect (const QRect &rect) const
 
void 
childEvent (QChildEvent *event) override
 
virtual void 
childEvent (QChildEvent *event)
 
virtual void 
connectNotify (const QMetaMethod &signalMethod) const
 
virtual void 
customEvent (QEvent *event)
 
virtual void 
disconnectNotify (const QMetaMethod &signalMethod) const
 
bool 
isSignalConnected (const QMetaMethod &signalMethod) const
 
int 
receivers (const QString &signal) const
 
QObject * 
sender () const
 
int 
senderSignalIndex () const
 
virtual void 
timerEvent (QTimerEvent *event)
 
 
margin
 
 
sizeConstraint
 
 
spacing
 
 
objectName
 
T 
qobject_cast (QObject *object)
 
 
QObjectList
 
The QVBoxLayout class lines up widgets vertically.
This class is used to construct vertical box layout objects. See QBoxLayout for details.
The simplest use of the class is like this:
First, we create the widgets we want in the layout. Then, we create the QVBoxLayout object and add the widgets into the layout. Finally, we call QWidget::setLayout() to install the QVBoxLayout object onto the widget. At that point, the widgets in the layout are reparented to have window as their parent.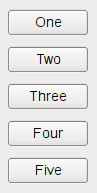 See also