The QWhatsThis class provides a simple description or explanation about the current menu item, tool bar icon, push button, or some other control. This help text is typically longer and more detailed than a tool tip but not as detailed as full documentation. This help is displayed in a pop up window when the user selects the "What's This?" mode and then clicks on a widget object.
Usage
The most common way to activate this help is to move focus to the relevant widget and press Shift+F1. The help text will appear and is then hidden as soon as the user does something else. If there is some other shortcut assigned for Shift+F1 this mechanism will not work.
Some dialogs automatically contain a "?" button where a user can click to enter the "What's This?" mode. The cursor will change to a question mark and then the user simply clicks some widget to pop up the help.
Applications can also provide a menu option or toolbar button which can be used to enter the "What's This?" mode. The following example shows how to call createAction() and add the QAction to a menu and a toolbar.
A program can also enter the "What's This?" mode by calling enterWhatsThisMode(), check the current mode with inWhatsThisMode() and return to a normal mode with leaveWhatsThisMode().
Advanced Usage
If you want to control the "What's This?" behavior of a widget manually refer to Qt::WA_CustomWhatsThis.
It is also possible to show different help texts for different regions of a widget by using a QHelpEvent of type QEvent::WhatsThis. Intercept the help event in your widget's QWidget::event() function and call QWhatsThis::showText() with the text you want to display for the position specified in QHelpEvent::pos(). If the text is rich text and the user clicks on a link, the widget also receives a QWhatsThisClickedEvent with the link's reference as QWhatsThisClickedEvent::href().
If a QWhatsThisClickedEvent is handled and QWidget::event() returns true, the help window remains visible. Call QWhatsThis::hideText() to hide it explicitly.
Example
To add the help text to a widget or an action call QWidget::setWhatsThis() or QAction::setWhatsThis().
The text can be either plain text or rich text. If you specify a rich text formatted string it will be rendered using the default stylesheet, making it possible to embed images in the displayed text. For speed, the default stylesheet uses a simple method to determine whether the text can be rendered as plain text. Refer to Qt::mightBeRichText() for more details.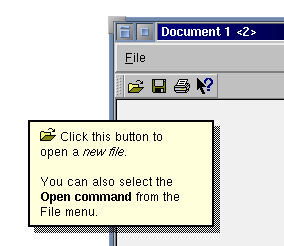 See also