QErrorMessage (QWidget *parent=nullptr)
 
 
~QErrorMessage ()
 
 
QDialog (QWidget *parent=nullptr, Qt::WindowFlags flags=Qt::EmptyFlag)
 
 
~QDialog ()
 
QWidget * 
extension () const
 
bool 
isSizeGripEnabled () const
 
QSize 
minimumSizeHint () const override
 
Qt::Orientation 
orientation () const
 
int 
result () const
 
void 
setExtension (QWidget *extension)
 
void 
setModal (bool modal)
 
void 
setOrientation (Qt::Orientation orientation)
 
void 
setResult (int result)
 
void 
setSizeGripEnabled (bool)
 
void 
setVisible (bool visible) override
 
QSize 
sizeHint () const override
 
 
QWidget (QWidget *parent=nullptr, Qt::WindowFlags flags=Qt::EmptyFlag)
 
 
~QWidget ()
 
bool 
acceptDrops () const
 
QString 
accessibleDescription () const
 
QString 
accessibleName () const
 
QList< QAction * > 
actions () const
 
void 
activateWindow ()
 
void 
addAction (QAction *action)
 
void 
addActions (const QList< QAction * > &actions)
 
void 
adjustSize ()
 
bool 
autoFillBackground () const
 
QPalette::ColorRole 
backgroundRole () const
 
QBackingStore * 
backingStore () const
 
QSize 
baseSize () const
 
QWidget * 
childAt (const QPoint &position) const
 
QWidget * 
childAt (int x, int y) const
 
QRect 
childrenRect () const
 
QRegion 
childrenRegion () const
 
void 
clearFocus ()
 
void 
clearMask ()
 
QMargins 
contentsMargins () const
 
QRect 
contentsRect () const
 
Qt::ContextMenuPolicy 
contextMenuPolicy () const
 
QCursor 
cursor () const
 
WId 
effectiveWinId () const
 
void 
ensurePolished () const
 
Qt::FocusPolicy 
focusPolicy () const
 
QWidget * 
focusProxy () const
 
QWidget * 
focusWidget () const
 
const QFont & 
font () const
 
QFontInfo 
fontInfo () const
 
QFontMetrics 
fontMetrics () const
 
QPalette::ColorRole 
foregroundRole () const
 
QRect 
frameGeometry () const
 
QSize 
frameSize () const
 
const QRect & 
geometry () const
 
void 
getContentsMargins (int *left, int *top, int *right, int *bottom) const
 
QPixmap 
grab (const QRect &rectangle=QRect (QPoint (0, 0), QSize (-1,-1)))
 
void 
grabGesture (Qt::GestureType gestureType, Qt::GestureFlags flags=Qt::GestureFlags ())
 
void 
grabKeyboard ()
 
void 
grabMouse ()
 
void 
grabMouse (const QCursor &cursor)
 
int 
grabShortcut (const QKeySequence &key, Qt::ShortcutContext context=Qt::WindowShortcut)
 
QGraphicsEffect * 
graphicsEffect () const
 
QGraphicsProxyWidget * 
graphicsProxyWidget () const
 
bool 
hasEditFocus () const
 
bool 
hasFocus () const
 
virtual bool 
hasHeightForWidth () const
 
bool 
hasMouseTracking () const
 
int 
height () const
 
virtual int 
heightForWidth (int width) const
 
Qt::InputMethodHints 
inputMethodHints () const
 
virtual QVariant 
inputMethodQuery (Qt::InputMethodQuery query) const
 
void 
insertAction (QAction *before, QAction *action)
 
void 
insertActions (QAction *before, QList< QAction * > actions)
 
bool 
isActiveWindow () const
 
bool 
isAncestorOf (const QWidget *child) const
 
bool 
isEnabled () const
 
bool 
isEnabledTo (const QWidget *parent) const
 
bool 
isEnabledToTLW () const
 
bool 
isFullScreen () const
 
bool 
isHidden () const
 
bool 
isMaximized () const
 
bool 
isMinimized () const
 
bool 
isModal () const
 
bool 
isTopLevel () const
 
bool 
isVisible () const
 
bool 
isVisibleTo (const QWidget *parent) const
 
bool 
isWindow () const
 
bool 
isWindowModified () const
 
QLayout * 
layout () const
 
Qt::LayoutDirection 
layoutDirection () const
 
QLocale 
locale () const
 
QPoint 
mapFrom (const QWidget *parent, const QPoint &pos) const
 
QPoint 
mapFromGlobal (const QPoint &pos) const
 
QPoint 
mapFromParent (const QPoint &pos) const
 
QPoint 
mapTo (const QWidget *parent, const QPoint &pos) const
 
QPoint 
mapToGlobal (const QPoint &pos) const
 
QPoint 
mapToParent (const QPoint &pos) const
 
QRegion 
mask () const
 
int 
maximumHeight () const
 
QSize 
maximumSize () const
 
int 
maximumWidth () const
 
int 
minimumHeight () const
 
QSize 
minimumSize () const
 
int 
minimumWidth () const
 
void 
move (const QPoint &point)
 
void 
move (int x, int y)
 
QWidget * 
nativeParentWidget () const
 
QWidget * 
nextInFocusChain () const
 
QRect 
normalGeometry () const
 
void 
overrideWindowFlags (Qt::WindowFlags flags)
 
QPaintEngine * 
paintEngine () const override
 
const QPalette & 
palette () const
 
QWidget * 
parentWidget () const
 
QPoint 
pos () const
 
QWidget * 
previousInFocusChain () const
 
QRect 
rect () const
 
void 
releaseKeyboard ()
 
void 
releaseMouse ()
 
void 
releaseShortcut (int id)
 
void 
removeAction (QAction *action)
 
void 
render (QPaintDevice *target, const QPoint &targetOffset=QPoint (), const QRegion &sourceRegion=QRegion (), RenderFlags renderFlags=RenderFlags (DrawWindowBackground|DrawChildren))
 
void 
render (QPainter *painter, const QPoint &targetOffset=QPoint (), const QRegion &sourceRegion=QRegion (), RenderFlags renderFlags=RenderFlags (DrawWindowBackground|DrawChildren))
 
void 
repaint (const QRect &rect)
 
void 
repaint (const QRegion &region)
 
void 
repaint (int x, int y, int w, int h)
 
void 
resize (const QSize &size)
 
void 
resize (int w, int h)
 
bool 
restoreGeometry (const QByteArray &geometry)
 
QByteArray 
saveGeometry () const
 
void 
scroll (int dx, int dy)
 
void 
scroll (int dx, int dy, const QRect &rect)
 
void 
setAcceptDrops (bool on)
 
void 
setAccessibleDescription (const QString &description)
 
void 
setAccessibleName (const QString &name)
 
void 
setAttribute (Qt::WidgetAttribute attribute, bool enable=true)
 
void 
setAutoFillBackground (bool enable)
 
void 
setBackgroundRole (QPalette::ColorRole role)
 
void 
setBaseSize (const QSize &size)
 
void 
setBaseSize (int basew, int baseh)
 
void 
setContentsMargins (const QMargins &margins)
 
void 
setContentsMargins (int left, int top, int right, int bottom)
 
void 
setContextMenuPolicy (Qt::ContextMenuPolicy policy)
 
void 
setCursor (const QCursor &cursor)
 
void 
setEditFocus (bool enable)
 
void 
setFixedHeight (int h)
 
void 
setFixedSize (const QSize &size)
 
void 
setFixedSize (int w, int h)
 
void 
setFixedWidth (int w)
 
void 
setFocus (Qt::FocusReason reason)
 
void 
setFocusPolicy (Qt::FocusPolicy policy)
 
void 
setFocusProxy (QWidget *widget)
 
void 
setFont (const QFont &font)
 
void 
setForegroundRole (QPalette::ColorRole role)
 
void 
setGeometry (const QRect &rect)
 
void 
setGeometry (int x, int y, int w, int h)
 
void 
setGraphicsEffect (QGraphicsEffect *effect)
 
void 
setInputMethodHints (Qt::InputMethodHints hints)
 
void 
setLayout (QLayout *layout)
 
void 
setLayoutDirection (Qt::LayoutDirection direction)
 
void 
setLocale (const QLocale &locale)
 
void 
setMask (const QBitmap &bitmap)
 
void 
setMask (const QRegion &region)
 
void 
setMaximumHeight (int maxh)
 
void 
setMaximumSize (const QSize &size)
 
void 
setMaximumSize (int maxw, int maxh)
 
void 
setMaximumWidth (int maxw)
 
void 
setMinimumHeight (int minh)
 
void 
setMinimumSize (const QSize &size)
 
void 
setMinimumSize (int minw, int minh)
 
void 
setMinimumWidth (int minw)
 
void 
setMouseTracking (bool enable)
 
void 
setPalette (const QPalette &palette)
 
void 
setParent (QWidget *parent)
 
void 
setParent (QWidget *parent, Qt::WindowFlags flags)
 
void 
setShortcutAutoRepeat (int id, bool enable=true)
 
void 
setShortcutEnabled (int id, bool enable=true)
 
void 
setSizeIncrement (const QSize &size)
 
void 
setSizeIncrement (int w, int h)
 
void 
setSizePolicy (QSizePolicy policy)
 
void 
setSizePolicy (QSizePolicy::Policy horizontal, QSizePolicy::Policy vertical)
 
void 
setStatusTip (const QString &data)
 
void 
setStyle (QStyle *style)
 
void 
setToolTip (const QString &data)
 
void 
setToolTipDuration (int msec)
 
void 
setUpdatesEnabled (bool enable)
 
void 
setWhatsThis (const QString &str)
 
void 
setWindowFilePath (const QString &filePath)
 
void 
setWindowFlags (Qt::WindowFlags flags)
 
void 
setWindowIcon (const QIcon &icon)
 
void 
setWindowModality (Qt::WindowModality windowModality)
 
void 
setWindowOpacity (qreal level)
 
void 
setWindowRole (const QString &role)
 
void 
setWindowState (Qt::WindowStates windowState)
 
QSize 
size () const
 
QSize 
sizeIncrement () const
 
QSizePolicy 
sizePolicy () const
 
void 
stackUnder (QWidget *widget)
 
QString 
statusTip () const
 
QStyle * 
style () const
 
QString 
styleSheet () const
 
bool 
testAttribute (Qt::WidgetAttribute attribute) const
 
QString 
toolTip () const
 
int 
toolTipDuration () const
 
QWidget * 
topLevelWidget () const
 
bool 
underMouse () const
 
void 
ungrabGesture (Qt::GestureType gestureType)
 
void 
unsetCursor ()
 
void 
unsetLayoutDirection ()
 
void 
unsetLocale ()
 
void 
update (const QRect &rect)
 
void 
update (const QRegion &region)
 
void 
update (int x, int y, int w, int h)
 
void 
updateGeometry ()
 
bool 
updatesEnabled () const
 
QRegion 
visibleRegion () const
 
QString 
whatsThis () const
 
int 
width () const
 
QWidget * 
window () const
 
QString 
windowFilePath () const
 
Qt::WindowFlags 
windowFlags () const
 
QWindow * 
windowHandle () const
 
QIcon 
windowIcon () const
 
Qt::WindowModality 
windowModality () const
 
qreal 
windowOpacity () const
 
QString 
windowRole () const
 
Qt::WindowStates 
windowState () const
 
QString 
windowTitle () const
 
Qt::WindowType 
windowType () const
 
WId 
winId () const
 
int 
x () const
 
int 
y () const
 
 
QObject (QObject *parent=nullptr)
 
 
~QObject ()
 
bool 
blockSignals (bool block)
 
const QList< QObject * > & 
children () const
 
bool 
connect (const QObject *sender, const QString &signalMethod, const QString &location, const QString &slotMethod, Qt::ConnectionType type=Qt::AutoConnection)
 
bool 
connect (const QObject *sender, const QString &signalMethod, const QString &slotMethod, Qt::ConnectionType type=Qt::AutoConnection)
 
bool 
disconnect (const QObject *receiver, const QString &slotMethod=QString ()) const
 
bool 
disconnect (const QString &signalMethod, const QString &location, const QObject *receiver=nullptr, const QString &slotMethod=QString ()) const
 
bool 
disconnect (const QString &signalMethod=QString (), const QObject *receiver=nullptr, const QString &slotMethod=QString ()) const
 
void 
dumpObjectInfo ()
 
void 
dumpObjectTree ()
 
QList< QString > 
dynamicPropertyNames () const
 
virtual bool 
event (QEvent *event)
 
virtual bool 
eventFilter (QObject *watched, QEvent *event)
 
template<typename T >
T 
findChild (const QString &childName=QString ()) const
 
template<class T >
QList< T > 
findChildren (const QRegularExpression &regExp, Qt::FindChildOptions options=Qt::FindChildrenRecursively) const
 
template<class T >
QList< T > 
findChildren (const QString &objName=QString (), Qt::FindChildOptions options=Qt::FindChildrenRecursively) const
 
bool 
inherits (const QString &className) const
 
void 
installEventFilter (QObject *filterObj)
 
bool 
isWidgetType () const
 
bool 
isWindowType () const
 
void 
killTimer (int id)
 
const QMetaObject * 
metaObject () const
 
void 
moveToThread (QThread *targetThread)
 
QString 
objectName () const
 
QObject * 
parent () const
 
template<class T = QVariant>
T 
property (const QString &name) const
 
void 
removeEventFilter (QObject *obj)
 
void 
setObjectName (const QString &name)
 
void 
setParent (QObject *parent)
 
bool 
setProperty (const QString &name, const QVariant &value)
 
bool 
signalsBlocked () const
 
int 
startTimer (int interval, Qt::TimerType timerType=Qt::CoarseTimer)
 
QThread * 
thread () const
 
virtual 
~QPaintDevice ()
 
int 
colorCount () const
 
int 
depth () const
 
int 
devicePixelRatio () const
 
qreal 
devicePixelRatioF () const
 
int 
height () const
 
int 
heightMM () const
 
int 
logicalDpiX () const
 
int 
logicalDpiY () const
 
bool 
paintingActive () const
 
int 
physicalDpiX () const
 
int 
physicalDpiY () const
 
int 
width () const
 
int 
widthMM () const
 
static QErrorMessage * 
qtHandler ()
 
static QWidget * 
createWindowContainer (QWindow *window, QWidget *parent=nullptr, Qt::WindowFlags flags=Qt::EmptyFlag)
 
static QWidget * 
find (WId id)
 
static QWidget * 
keyboardGrabber ()
 
static QWidget * 
mouseGrabber ()
 
static void 
setTabOrder (QWidget *firstWidget, QWidget *secondWidget)
 
static bool 
connect (const QObject *sender, const QMetaMethod &signalMethod, const QObject *receiver, const QMetaMethod &slotMethod, Qt::ConnectionType type=Qt::AutoConnection)
 
static bool 
connect (const QObject *sender, const QString &signalMethod, const QObject *receiver, const QString &slotMethod, Qt::ConnectionType type=Qt::AutoConnection, const QString &location=QString ())
 
static bool 
connect (const QObject *sender, const QString &signalMethod, const QString &location, const QObject *receiver, const QString &slotMethod, Qt::ConnectionType type=Qt::AutoConnection)
 
template<class Sender , class SignalClass , class... SignalArgs, class Receiver , class SlotClass , class... SlotArgs, class SlotReturn >
static bool 
connect (const Sender *sender, void (SignalClass::*signalMethod)(SignalArgs...), const Receiver *receiver, SlotReturn (SlotClass::*slotMethod)(SlotArgs...), Qt::ConnectionType type=Qt::AutoConnection)
 
template<class Sender , class SignalClass , class... SignalArgs, class Receiver , class T >
static bool 
connect (const Sender *sender, void (SignalClass::*signalMethod)(SignalArgs...), const Receiver *receiver, T slotLambda, Qt::ConnectionType type=Qt::AutoConnection)
 
static bool 
disconnect (const QObject *sender, const QMetaMethod &signalMethod, const QObject *receiver, const QMetaMethod &slotMethod)
 
static bool 
disconnect (const QObject *sender, const QString &signalMethod, const QObject *receiver, const QString &slotMethod)
 
static bool 
disconnect (const QObject *sender, const QString &signalMethod, const QString &location, const QObject *receiver, const QString &slotMethod)
 
template<class Sender , class SignalClass , class... SignalArgs, class Receiver , class SlotClass , class... SlotArgs, class SlotReturn >
static bool 
disconnect (const Sender *sender, void (SignalClass::*signalMethod)(SignalArgs...), const Receiver *receiver, SlotReturn (SlotClass::*slotMethod)(SlotArgs...))
 
template<class Sender , class SignalClass , class... SignalArgs, class Receiver >
static bool 
disconnect (const Sender *sender, void (SignalClass::*signalMethod)(SignalArgs...), const Receiver *receiver, std::nullptr_t slotMethod=nullptr)
 
template<class Sender , class SignalClass , class... SignalArgs, class Receiver , class T >
static bool 
disconnect (const Sender *sender, void (SignalClass::*signalMethod)(SignalArgs...), const Receiver *receiver, T slotMethod)
 
static QMetaObject & 
staticMetaObject ()
 
static QString 
tr (const char *text, const char *comment=nullptr, std::optional< int > numArg=std::optional< int >())
 
The QErrorMessage class provides an error message dialog which consists of a text label and a checkbox. The checkbox lets the user control whether the same error message will be displayed again in the future. Once the user has specified that a message is not to be shown again it is automatically skipped.
To use the QErrorMessage class create the dialog and show it by calling the showMessage() method.
The static qtHandler() function installs a message handler using QGlobal::csInstallMsgHandler() and creates a QErrorMessage that displays qDebug(), qWarning() and qFatal() messages. This is useful in environments where no console is available to display warnings and error messages. In both cases QErrorMessage will queue pending messages and display them in order, with each new message being shown as soon as the user has accepted the previous message.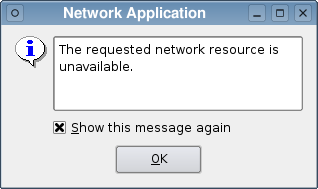 See also