QGraphicsEffect (QObject *parent=nullptr)
 
virtual 
~QGraphicsEffect ()
 
QRectF 
boundingRect () const
 
virtual QRectF 
boundingRectFor (const QRectF &rectF) const
 
bool 
isEnabled () const
 
 
QObject (QObject *parent=nullptr)
 
 
~QObject ()
 
bool 
blockSignals (bool block)
 
const QList< QObject * > & 
children () const
 
bool 
connect (const QObject *sender, const QString &signalMethod, const QString &location, const QString &slotMethod, Qt::ConnectionType type=Qt::AutoConnection)
 
bool 
connect (const QObject *sender, const QString &signalMethod, const QString &slotMethod, Qt::ConnectionType type=Qt::AutoConnection)
 
bool 
disconnect (const QObject *receiver, const QString &slotMethod=QString ()) const
 
bool 
disconnect (const QString &signalMethod, const QString &location, const QObject *receiver=nullptr, const QString &slotMethod=QString ()) const
 
bool 
disconnect (const QString &signalMethod=QString (), const QObject *receiver=nullptr, const QString &slotMethod=QString ()) const
 
void 
dumpObjectInfo ()
 
void 
dumpObjectTree ()
 
QList< QString > 
dynamicPropertyNames () const
 
virtual bool 
event (QEvent *event)
 
virtual bool 
eventFilter (QObject *watched, QEvent *event)
 
template<typename T >
T 
findChild (const QString &childName=QString ()) const
 
template<class T >
QList< T > 
findChildren (const QRegularExpression &regExp, Qt::FindChildOptions options=Qt::FindChildrenRecursively) const
 
template<class T >
QList< T > 
findChildren (const QString &objName=QString (), Qt::FindChildOptions options=Qt::FindChildrenRecursively) const
 
bool 
inherits (const QString &className) const
 
void 
installEventFilter (QObject *filterObj)
 
bool 
isWidgetType () const
 
bool 
isWindowType () const
 
void 
killTimer (int id)
 
const QMetaObject * 
metaObject () const
 
void 
moveToThread (QThread *targetThread)
 
QString 
objectName () const
 
QObject * 
parent () const
 
template<class T = QVariant>
T 
property (const QString &name) const
 
void 
removeEventFilter (QObject *obj)
 
void 
setObjectName (const QString &name)
 
void 
setParent (QObject *parent)
 
bool 
setProperty (const QString &name, const QVariant &value)
 
bool 
signalsBlocked () const
 
int 
startTimer (int interval, Qt::TimerType timerType=Qt::CoarseTimer)
 
QThread * 
thread () const
 
static bool 
connect (const QObject *sender, const QMetaMethod &signalMethod, const QObject *receiver, const QMetaMethod &slotMethod, Qt::ConnectionType type=Qt::AutoConnection)
 
static bool 
connect (const QObject *sender, const QString &signalMethod, const QObject *receiver, const QString &slotMethod, Qt::ConnectionType type=Qt::AutoConnection, const QString &location=QString ())
 
static bool 
connect (const QObject *sender, const QString &signalMethod, const QString &location, const QObject *receiver, const QString &slotMethod, Qt::ConnectionType type=Qt::AutoConnection)
 
template<class Sender , class SignalClass , class... SignalArgs, class Receiver , class SlotClass , class... SlotArgs, class SlotReturn >
static bool 
connect (const Sender *sender, void (SignalClass::*signalMethod)(SignalArgs...), const Receiver *receiver, SlotReturn (SlotClass::*slotMethod)(SlotArgs...), Qt::ConnectionType type=Qt::AutoConnection)
 
template<class Sender , class SignalClass , class... SignalArgs, class Receiver , class T >
static bool 
connect (const Sender *sender, void (SignalClass::*signalMethod)(SignalArgs...), const Receiver *receiver, T slotLambda, Qt::ConnectionType type=Qt::AutoConnection)
 
static bool 
disconnect (const QObject *sender, const QMetaMethod &signalMethod, const QObject *receiver, const QMetaMethod &slotMethod)
 
static bool 
disconnect (const QObject *sender, const QString &signalMethod, const QObject *receiver, const QString &slotMethod)
 
static bool 
disconnect (const QObject *sender, const QString &signalMethod, const QString &location, const QObject *receiver, const QString &slotMethod)
 
static bool 
disconnect (const QObject *sender, std::nullptr_t, const QObject *receiver, std::nullptr_t)
 
template<class Sender , class SignalClass , class... SignalArgs, class Receiver , class SlotClass , class... SlotArgs, class SlotReturn >
static bool 
disconnect (const Sender *sender, void (SignalClass::*signalMethod)(SignalArgs...), const Receiver *receiver, SlotReturn (SlotClass::*slotMethod)(SlotArgs...))
 
template<class Sender , class SignalClass , class... SignalArgs, class Receiver >
static bool 
disconnect (const Sender *sender, void (SignalClass::*signalMethod)(SignalArgs...), const Receiver *receiver, std::nullptr_t slotMethod=nullptr)
 
template<class Sender , class SignalClass , class... SignalArgs, class Receiver , class T >
static bool 
disconnect (const Sender *sender, void (SignalClass::*signalMethod)(SignalArgs...), const Receiver *receiver, T slotMethod)
 
static QMetaObject & 
staticMetaObject ()
 
static QString 
tr (const char *text, const char *comment=nullptr, std::optional< int > numArg=std::optional< int >())
 
T 
qobject_cast (QObject *object)
 
 
QObjectList
 
The QGraphicsEffect class is the base class for all graphics effects.
Effects alter the appearance of elements by hooking into the rendering pipeline and operating between the source (e.g., a QGraphicsPixmapItem) and the destination device (e.g., QGraphicsView's viewport). Effects can be disabled by calling setEnabled(false). If effects are disabled, the source is rendered directly.
To add a visual effect to a QGraphicsItem, for example, you can use one of the standard effects, or alternately, create your own effect by creating a subclass of QGraphicsEffect. The effect can then be installed on the item using QGraphicsItem::setGraphicsEffect().
CopperSpice provides the following standard effects: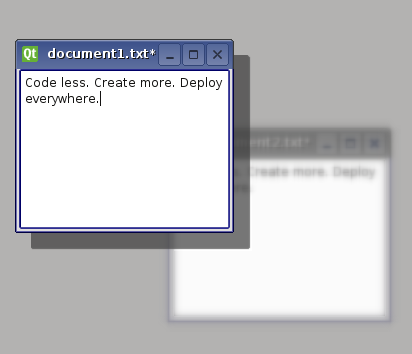 For more information on how to use each effect, refer to the specific effect's documentation.
To create your own custom effect, create a subclass of QGraphicsEffect (or any other existing effects) and reimplement the virtual function draw(). This function is called whenever the effect needs to redraw. The draw() function takes the painter with which to draw as an argument. For more information, refer to the documentation for draw(). In the draw() function you can call sourcePixmap() to get a pixmap of the graphics effect source which you can then process.
If your effect changes use update() to request a redraw. If your custom effect changes the bounding rectangle of the source, for example a radial glow effect may need to apply an extra margin, reimplement boundingRectFor(). Then call updateBoundingRect() to notify the QGraphicsEffect object.
The method sourceChanged() is called to notify the effect the source has changed.